DAVAO DEL SUR COLISEUM, DAVAO DEL SUR, March 24 – Vice-presidential aspirant Francis "Kiko" Pangilinan on Thursday received yet another morale booster from his supporters here, telling him to carry on and continue campaigning as they back his bid.
Mimi Arquiza and Raffy Calma, volunteers from Davao for Leni, traveled around 65 kilometers from the province's capital to get here just to show their support to the Robredo-Pangilinan duo.
In particular, Arquiza and Calma assured that Pangilinan will get support from Davao voters amid the broad calls of other groups to split votes for the presidency and vice-presidency.
"Hindi dapat siya matakot kasi marami kaming mga tao dito sa Davao na rooting for him. We believe in his advocacies," Arquiza said.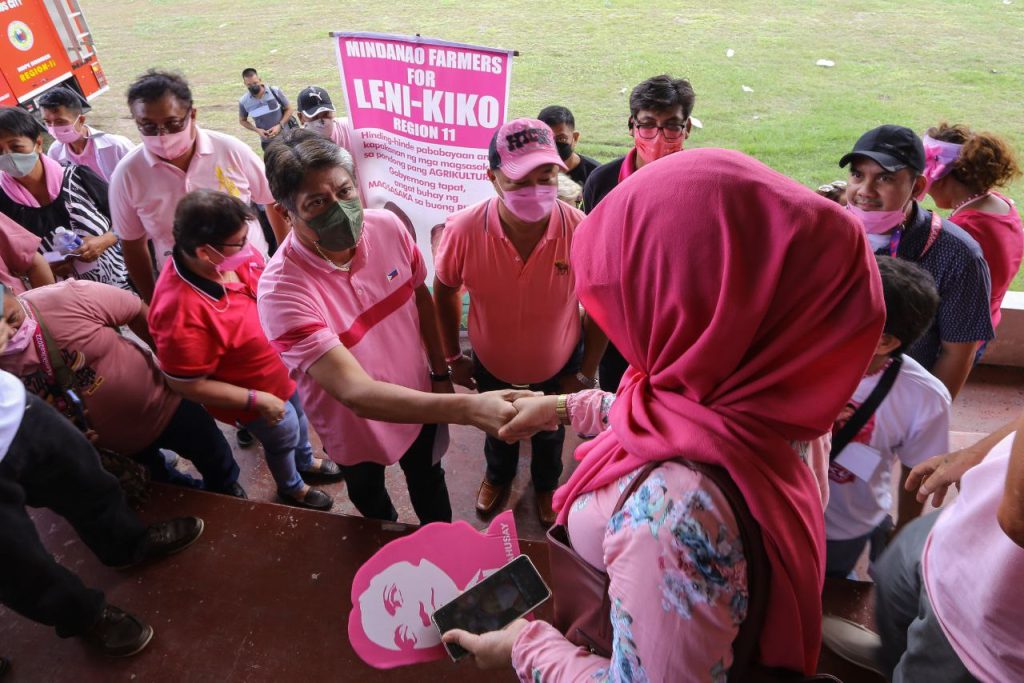 "Maraming loyal na Davaoeño. Basta magustuhan namin ang isang tao, ipaglalaban talaga namin siya. Kahit balwarte ito ni Sara, pero we believe na iyong mga tao naniniwala sa adbokasiya ni Senator Kiko. Kaya naming ipaglaban at ikampanya siya," she added.
Calma agrees with Arquiza, underscoring that Davao voters are not always keen on following who the local candidates endorse.
"Marami talaga ang fanatic but I believe in the intelligence of Davao voters. They see beyond colors. They are more into platforms than family name and I can vouch for Vice President Kiko because his heart is in the right place," Calma said.
Being members of Davao for Leni, both Arquiza and Calma, together with other volunteers, are campaigning hard for Pangilinan as they believe he can replicate the good practices that Robredo put in place at the Office of the Vice President.
"Walang ibang kandidato ang kayang pantayan o higitan ang nagawa ni VP Leni sa Office of the Vice President. This is why we are really doing our best to campaign for Leni-Kiko," Arquiza said.
"May mga nakaka-away na ako and may mga nang-aaway na sa akin dito sa Davao because of my choice of vice-president. But I will stand my ground because it is the future of the country that is at stake. I believe in Kiko so I will support him all the way," Calma added.
Aside from Pangilinan's integrity and consistency in his positions, Arquiza and Calma laud the agriculture advocate for his pro-people laws.
"He is a very consistent person, pro-poor, has vision, and has the determination. Naniniwala kami sa mga hopes na ibinibigay niya sa mga tao lalo na to the sector that he is strongly advocating, ang mga farmers and fisherfolk," Arquiza said.
"Malinis ang track record pero siyempre marami din ang kanyang nagawa and one of which ay iyong pagtindig laban sa korapsyon sa gobyerno. Laban lang Senator Kiko, andito kami supporting and fighting with you," Calma said.