An amazing assembly of some of the country's finest and brightest OPM artists stands united as they pay tribute to former Philippine President Benigno Aquino III in a moving musical and performance arts event titled Salamat Pnoy: Alaala At Alay Ng Musikang Pinoy, streaming live on August 2 (Monday, 8 p.m.) on the Facebook pages of Radyo Katipunan, Bayanihan Musikahan, and Now You Know, also streaming on Radyo Katipunan's Youtube channel and Twitter account.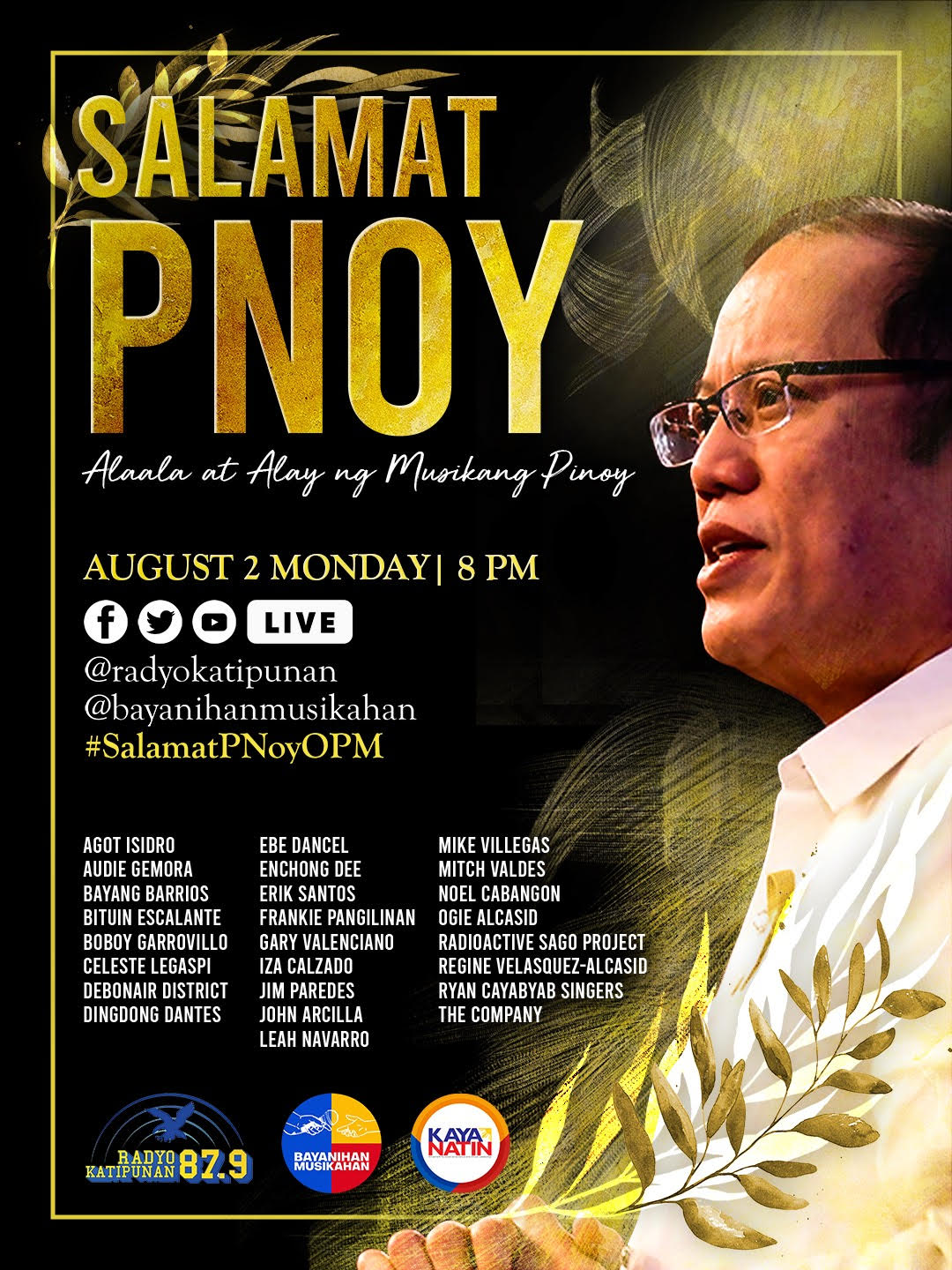 With the official hashtag #SalamatPNoyOPM, the concert celebrates and commemorates the 40th day since PNoy's untimely passing. A staunch supporter of local Pinoy artists, PNoy was an avowed advocate of Original Pilipino Music. As a fan of OPM, it is no secret in the industry – Filipino music gave the audiophile PNoy solace, pride, and comfort amidst the many challenges that he faced in his tenure as President. His journey was fuelled by his deep desire to uplift and imbue the country with an aspiration for greatness, and PNoy had a marked bias for the greater majority of our people, mired in poverty.
Because he was so self-effacing and called so little attention to himself, few appreciated the depth and breadth of accomplishments that PNoy's vision, courage, and conviction made possible during his presidency – awe-inspiring results on so many fronts of public service. This realization endeared him even more to the hearts of local artists.
Through this event, Filipino artists lead the country in expressing the love of a grateful nation; they honor the leader who embodied humility and self-sacrifice, love and passion for our music, our people, and our country, and the true essence of duty and courage that so honored his heroic parents, the Philippines, and the God he served.
A joint production of Kaya Natin, Radyo Katipunan, and Bayanihan Musikahan, Salamat PNoy: Alaala At Alay Ng Musikang Pinoy features Agot Isidro, Audie Gemora, Bituin Escalante, Boboy Garrovillo, Celeste Legaspi, Debonair District, Dingdong Dantes, Ebe Dancel, Enchong Dee, Erik Santos, Frankie Pangilinan, Gary Valenciano, Iza Calzado, John Arcilla, Mike Villegas, Mitch Valdes, Noel Cabangon, Ogie Alcasid, Radioactive Sago Project, Regine Velasquez- Alcasid, Ryan Cayabyab Singers, and The Company with Jim Paredes and Leah Navarro as hosts and Paolo Valenciano as directorial consultant.


LIVESTREAMING on these platforms:
FB.com/radyokatipunan , FB.com/bayanihanmusikahan , and FB.com/nowyouknowph
Also on
youtube.com/radyokatipunanfm and on Twitter @radyokatipunan
For more information and exciting updates, like Radyo Katipunan 87.9 FM on Facebook, follow @radyokatipunan on Twitter and Instagram, and subscribe to Radyo Katipunan 87.9 FM on YouTube.